We received the following from UPAA-USA [The University of Peradeniya Alumni Association  (USA)]
The UPAA-USA Executive Committee wishes to extend our invitation to you to attend our Annual Get-together on Sept. 24th in Edison, NJ. This event is open to all Pera Alumni and friends so please feel free to share this email with your friends (other Sri Lankans as well as non-Sri Lankans).
All proceeds will be contributed to the University of Peradeniya student scholarships and other infrastructure projects to help uplift the students and the university. 
It will be great if you can RSVP by August 31st as it will help us to make our final arrangements.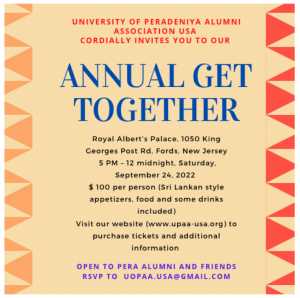 When: 5 PM – 12 midnight, Saturday, September 24, 2022
Where: Royal Albert's Palace, 1050 King Georges Post Rd, Fords, New Jersey
Cost: $ 100 per person (Sri Lankan-style appetizers, food, and some drinks included), Open to Pera alumni, their families and friends.
Please visit https://www.upaa-usa.org/events for the  most updated information
Purchase Tickets: https://www.upaa-usa.org/event-tickets