CUFSAA-NA Distinguished Speaker Series
Table of Contents
---

The  Panel Discussion of the CUFSAA-NA Distinguished Speaker Series organized in association with the Faculty of Science, University of Colombo on Graduate Admissions to USA and Canada was held on July 12th 2023, 9:30AM Eastern Time (July 12th 2023, 7:00pm Sri Lankan Time).
The details of the panel and ways to join and participate are listed below. Additionally, the Organizing committee kindly requests students to complete the questionnaire https://forms.gle/c7XAtEYeRqyWAU7W7 so the panelists are aware of your questions, concerns, and needs.
Please share this questionnaire with students you know as soon as possible for us to get feedback about the content to discuss.
Title: Panel Discussion on Graduate Admissions to USA and Canada
Panelists:  
Dr. Harshica Fernando: Assistant Professor of Chemistry, Prairie View A&M University
Dr. Arunika Gunawardena:  Professor of Biology, Dalhousie University
Dr. Amita Manatunga: Donna J. Brogan Professor of Biostatistics, Emory University
Dr. Unil Perera: Regents Professor of Physics, Georgia State University
Dr. Kirthi Premadasa : Professor of Mathematics, University of Wisconsin-Platteville
How to Join: Speaker Series talks are delivered via ZOOM.
The Panel Discussion was held on: July 12th, 2023 9:30 AM Eastern Time (US and Canada)
All talks of the Distinguished Speaker Series are FREE.
Please Join this meeting using the following LINK:
Meeting ID: 848 8278 4343
Passcode: 327815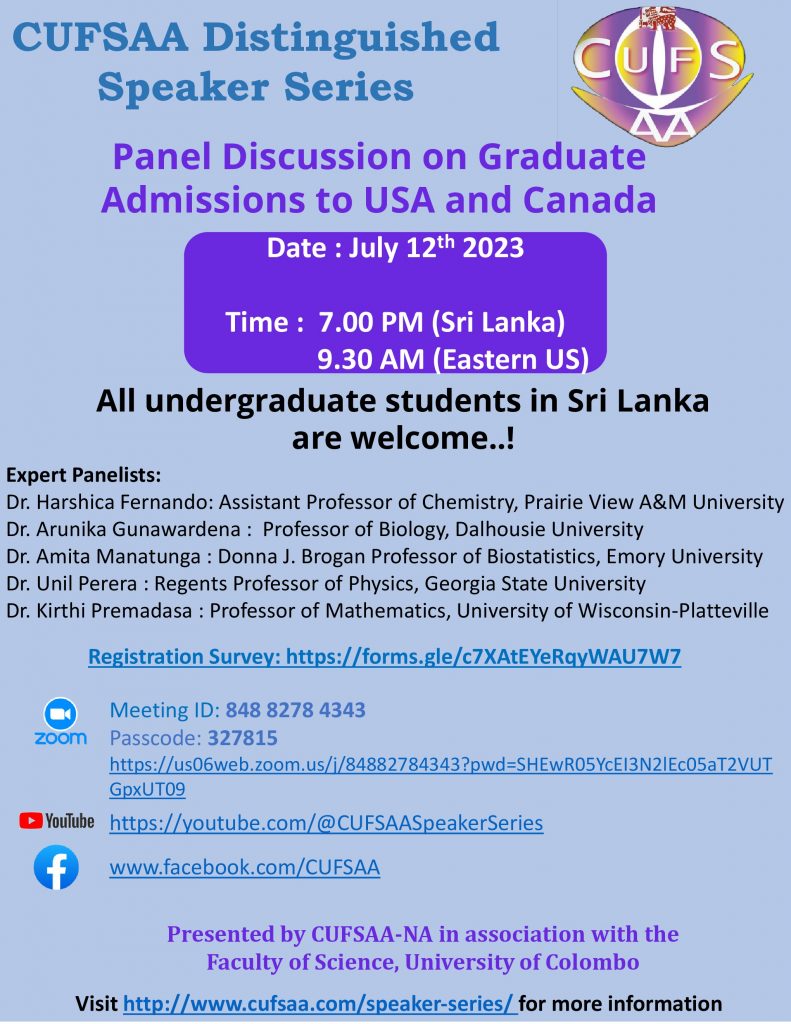 The concluded talk is NOW delivered via FB Live and YouTube Live.
---
Upcoming Talks of the Speaker Series for 2023

Please visit this webpage often to see updates and to join us at upcoming talks of the series.
---
Concluded Talks of the Speaker Series
These are the concluded talks of the series available as on demand videos for you to view at your leisure.
---
CUFSAA Distinguished Speaker Series is organized by the Speaker Series subcommittee of CUFSAA-NA in association with the Faculty of Science, University of Colombo.  If you would like to contact the subcommittee please write to us at speaker-series@cufsaa.org. We are particularly interested in hearing from our members with topic and speaker suggestions. Thank you!
CUFSAA Speaker Series – Introductory Video
---