The Fifth Talk of the CUFSAA-NA Distinguished Speaker Series organized in association with the Faculty of Science, University of Colombo was delivered by Dr. Binodh De Silva on November 09th 2022, 9:30AM Eastern Time (November 9th 2022, 8:00pm Sri Lankan Time).  The details of the talk are described below.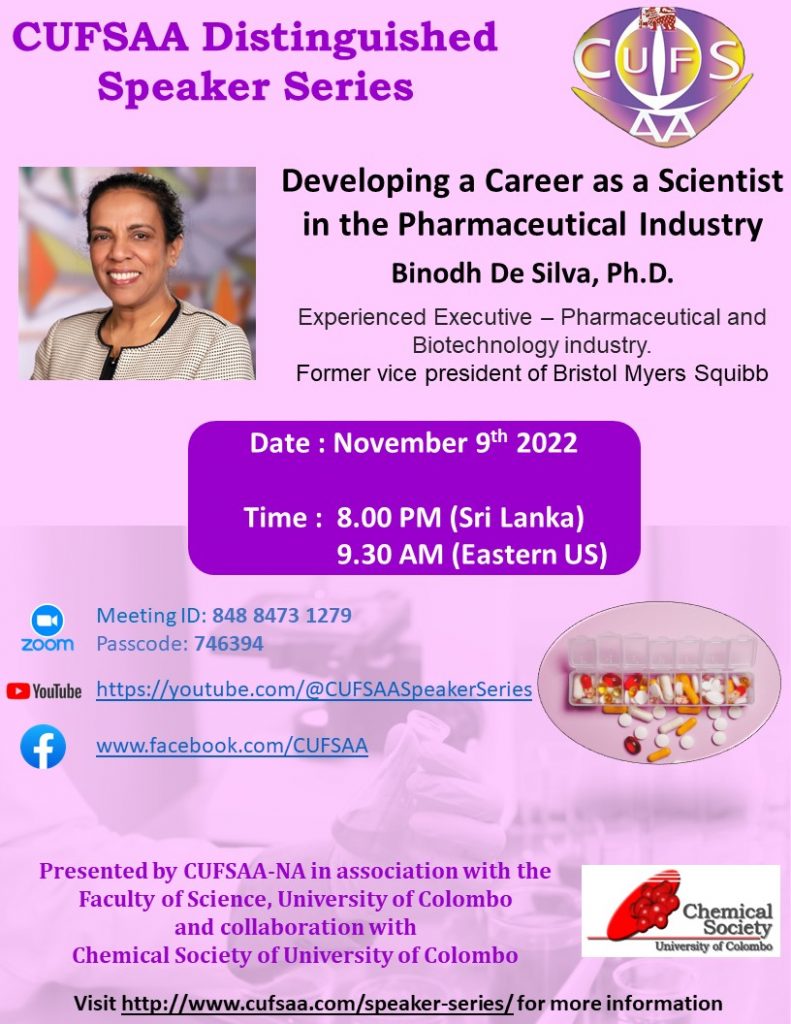 Title: Developing a Career as a Scientist in the Pharmaceutical Industry
 Speaker Bio: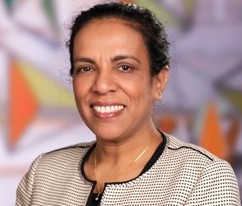 Binodh DeSilva Ph.D. Former Vice President, Lead Discovery & Optimization at Bristol-Myers Squibb Company, Princeton, NJ. She was responsible for leading the high throughput screening, lead optimization, reagent generation in the small molecule discovery organization. Dr. DeSilva has broad and extensive experiences in the drug discovery and development process, where she spent the early years in the regulated bioanalytical function, moving to support CMC analytical for manufacturing, and the most recent experience in early drug screening.  She received her Bachelor's in Analytical Chemistry from the University of Colombo, Sri Lanka in 1987, and a Ph.D. in Chemistry (Bioanalytical) in 1994 from the University of Kansas. She was a Post-Doctoral Research Associate in the Pharmaceutical Chemistry Department at the University of Kansas from 1994-1995. She was at Procter & Gamble Pharmaceuticals, Norwich, New York, from 1995-2001 and at Amgen, Thousand Oaks, CA leading the bioanalytical team from 2001-2010. She joined BMS in November of 2010.
Dr. DeSilva is the Past President of the American Association of Pharmaceutical Scientists (AAPS). In addition, she is a member of the American Chemical Society (ACS), Association for Women in Science (AWIS), and the Health Care Business Women's Association (HBA) NY/NJ metro chapter. She has been an active participant developing bioanalytical guidance, collaborating with the industry and regulatory colleagues and was a member of the programming committee for multiple Crystal City workshops, the Steering Committee of the Global Bioanalytical Consortium representing North America. Dr. DeSilva has published extensively on the topics of validation of Ligand Binding assays, use of emerging technologies to enable bioanalysis, scientific data driven decisions when validating the for regulated support etc. in peer reviewed journals. She has authored multiple book chapters on bioanalytical methods validation.  She has received many awards and accolades such as the 2020 American Association of Pharmaceutical Scientists Distinguished Service Award, the 2020 Sino-American Professionals Association Distinguished Achievement Award, 2018 HBA Luminary, 2017 CPSA Distinguished Scientists, 2015 Wisdom Share International Mentor of the year.  She also serves on a couple of Scientific Advisory boards for CROs. Her passion is to solve analytical problems and to inspire junior scientists to unleash their full potential.
Abstract: Drug discovery and development is an interdisciplinary endeavor that spans approximately a decade or more.  This is a team sport that combines the fields of Chemistry, biology, clinical science, regulatory, manufacturing, finance, legal etc. with the ambition of serving patients with unmet medical needs.  As a 'drug hunter' it is imperative that scientists embrace this multi dimensionality not only in the pursuit of solving the scientific and technical problems but also broaden their understanding of the soft skills that is required.  During this discussion I plan to share my experiences from childhood to present shaped my career in both the biotech and pharmaceutical industries.
The talk was delivered on: November 09, 2022 9:30 AM Eastern Time (US and Canada)
Please visit the following links to view the talks from FB Live and YouTube Live.
We sincerely thank Prof. Nalin de Silva, Head of the Department, Department of Chemistry, University of Colombo for delivering the vote of thanks.

This talk was moderated by Dr. Wasundara Fernando on behalf of the Speaker Series subcommittee of CUFSAA-NA.
---
CUFSAA Distinguished Speaker Series is organized by the Speaker Series subcommittee of CUFSAA-NA in association with the Faculty of Science, University of Colombo.  If you would like to contact the subcommittee please write to us at speaker-series@cufsaa.org. We are particularly interested in hearing from our members with topic and speaker suggestions. Thank you!
---