Table of Contents
---
CUFSAA Delivers three New Laptops to Faculty of Science – December 2021
CUFSAA purchased and delivered two laptop computers at a cost of $943.97 to the Faculty of Science. Another laptop computer at a cost of about $400 was donated by a CUFSAA member and was also delivered to the Faculty of Science. These three (03) laptop computers are to be made available to the students of Faculty of Science to borrow for their educational work assignments. We thank Dr. Gayani Tillekeratne, Jeevanthi Liyanarachchi and Shanika Gamage for carrying these laptops personally and delivering to the faculty. One laptop was delivered earlier and the following photographs show the delivery of the other two laptops on December 10, 2021.
---
CUFSAA purchased and delivered six (06) refurbished laptops for students use – Nov. 15, 2020
CUFSAA purchased and delivered six (06) refurbished laptop computers at a cost of $2,029.46 to the Faculty of Science for the use of students. The laptops provided were Dell Latitude E5540 and E6440 – 14.1″ – Core i5 4th Gen- 8 GB RAM – 500 GB SATA HDD with one year comprehensive warranty.
---
CUFSAA Delivers 12 New Laptops to Students in Need
We are excited to announce the delivery of Laptops to the Science Faculty Remote Learning Assistance Project.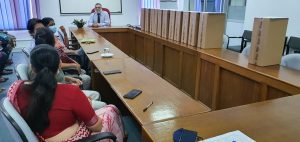 When Sri Lanka went into lock down and the University of Colombo switched to online instruction, several science faculty students found it impossible to continue their education as they did not have computers. After learning about the situation from the Dean, CUFSAA leaped into action. It took only three days to raise US$ 10,000, an accomplishment we at CUFSAA did not expect to achieve even in our wildest dreams!
The contributions came from all corners of the world. Most of those who contributed had one thing in common, they all were products of the Faculty of Science who are grateful to the impact and influence their alma mater made in their lives. We also wish to express our heartfelt gratitude to the many non-alumni well-wishers who kindly contributed to this worthy cause.
You may recall from our original email that twenty-six students were looking for help. In later exchanges between the Dean's office and the students, it was revealed that only twelve students wanted our support to get loans to buy laptops. We are proud to say, again, thanks to your contributions, we went beyond their expectations and were able to provide all twelve students with new laptops (HP ProBook 450 G7 Notebooks with I5/1TB and 8GB RAM). Students can use these until the completion of their undergraduate studies as equipment loans and are expected to return them to meet future needs.
We have already delivered the laptops to the Dean's office and the Laptop handover ceremony happened on June 15, 2020 (see the photo above taken at the handover ceremony).
While the immediate need of remote learning for these students was fulfilled, CUFSAA will continue to work with the Dean's office to support our students overcome the challenges of distant learning.
We laud the alumni of the Faculty of Science spanning almost a half-century, who rallied to support their Alma Mater, in its time of need. We stand proud to be part of this collective that this wonderful institution has created.
Thank you!
(June 13, 2020)
---
Thank you! We have reached our Target to help the Science students in remote learning
CUFSAA is proud and honored to announce that it has reached its fundraising target of US $ 10,000 within a short time of THREE days, to help the current Science Faculty students with the equipment required for their remote learning. What we have collectively achieved is truly incredible.  It is all because of all of you!
The sheer magnitude of this display of generosity speaks volumes of the spirit of our alumni, their gratefulness, empathy, and kindness. Contributions came from Science graduates spread across five decades as well as other well-wishers around the world!. We are at a loss of words to say how thankful we are to you. We would also like to extend a special note of appreciation to Non-Alumni donors who stepped up to the plate.  In the next few days, we will be making arrangements to buy the equipment required by students for remote learning and will keep you informed of the progress.
The fundraising effort is now closed.
Thank you!
CUFSAA
(June 02, 2020)
---
The Original Appeal of May 29, 2020
The current Science Faculty students at the University of Colombo need our help now. They are busy preparing for their final exams in July through remote learning, and twenty-six students (who The Dean's office identified through a survey) badly need our help. They need support with equipment and infrastructure (laptops, tablets as well as appropriate data packages). The Dean of the Faculty of Science (Prof. Mahanama) joined us at CUFSAA (Colombo University Faculty of Science Alumni Association) in a meeting on Tuesday. He asked our grateful alumni across North America to help these students in their moment of need. The Vice-Chancellor has also appealed to the general public to help all university students. We at CUFSAA have decided to go all out to support our alma mater to help in her noble cause to change the lives of these students as the whole world suffers through a catastrophe of historic proportions.
We urgently need to raise approximately $10,000 to help these students and kindly encourage our members to use one of the methods below and contribute generously to provide that extra bit of help, which the next generation of science students need.
Let us be the bridge to help our students cross these troubled waters towards their path to success. If there was ever a time when our beloved faculty of Science needed our help, it is now! Let's rise to the occasion and help.
The money that we raise will help these students in several ways. For those students who are planning to apply for bank loans to obtain laptops, this money can contribute towards a down-payment or a security deposit. Incidentally, these bank loans are currently available to students in the faculties of Engineering, Medicine, and Information Technology (IT), but not to the students in the Faculty of Science. Your contribution will help to extend this facility to interested students in the faculty of Science as well. For those who do not wish a laptop loan, your donation will help them obtain a tablet, a Chromebook, or even a data package. It will be tough for students to get loans without the support of CUFSAA and the faculty. If we can raise sufficient funds, we will contribute to the Vice-Chancellor's general fund as a goodwill gesture.
We have a short time frame to raise this money as the final exams are looming. We need to have all the required funds by the end of the first week of June to make a meaningful impact.
Colombo University Faculty of Science Alumni Association-North America is a 501(c)(3) Nonprofit Organization registered in the United States.
(May 29, 2020)