The Third Talk of the CUFSAA-NA Distinguished Speaker Series organized in association with the Faculty of Science, University of Colombo was delivered by Dr. Jayeni Hiti-Bandaralage on August 28th 2022, 8:00AM Eastern Time (August 28th 2022, 5:30pm Sri Lankan Time).  The details of the talk are described below.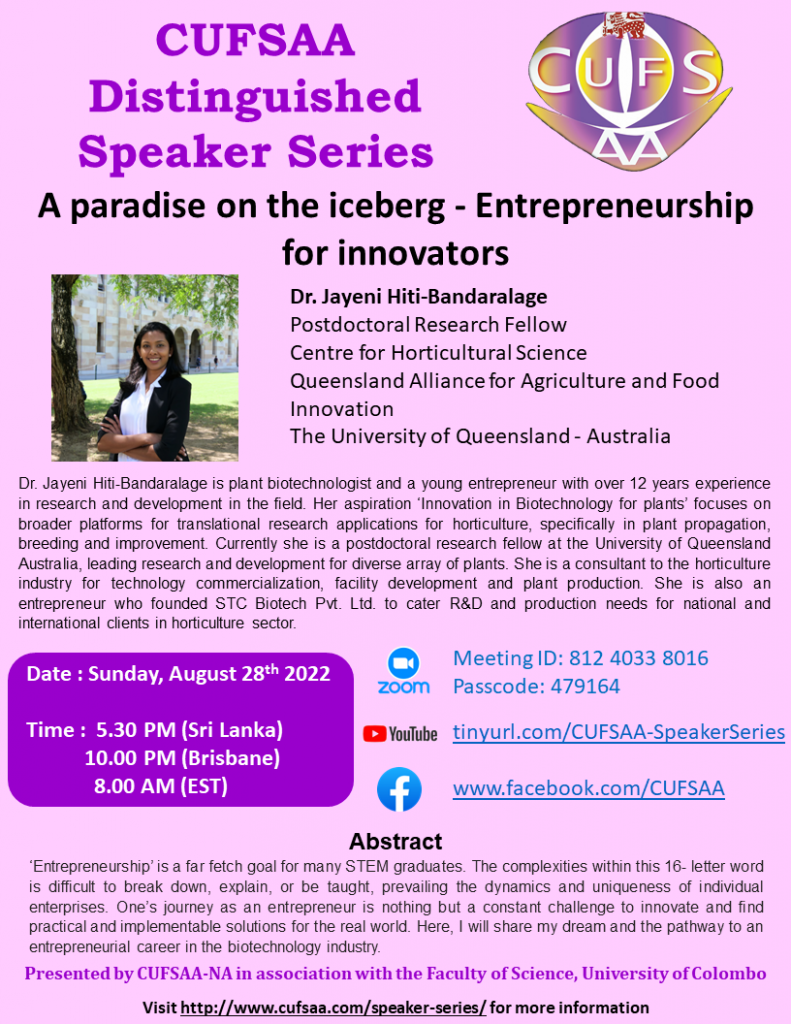 Title: A paradise on the iceberg – Entrepreneurship for innovators

Brief Bio: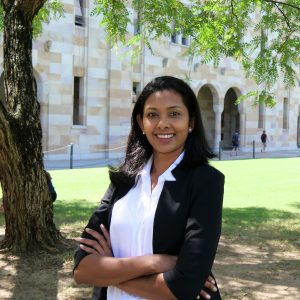 Dr. Jayeni Hiti-Bandaralage a plant biotechnologist and a young entrepreneur with over 12 years experience in research and development in the field. Her aspiration 'Innovation in Biotechnology for plants' focuses on broader platforms for translational research applications for horticulture, specifically in plant propagation, breeding and improvement. Currently she is a postdoctoral research fellow at the University of Queensland Australia, leading research and development for diverse array of plants. She is a consultant to the horticulture industry for technology commercialization, facility development and plant production. She is also an entrepreneur who founded STC Biotech Pvt. Ltd. to cater R&D and production needs for national and international clients in horticulture sector.
Abstract: Entrepreneurship' is a far fetch goal for many STEM graduates. The complexities within this 16- letter word are difficult to break down, explain, or be taught, prevailing the dynamics and uniqueness of individual enterprises. One's journey as an entrepreneur is nothing but a constant challenge to innovate and find practical and implementable solutions for the real world. Here, I will share my dream and the pathway to an entrepreneurial career in the biotechnology industry.
The talk was delivered on: August 28, 2022 08:00 AM Eastern Time (US and Canada)
Please visit the following links to view recorded talks from FB Live and YouTube Live.
We sincerely thank Dr. Hashendra S. Kathriarachchi, Head of the Department, Department of Plant Sciences, University of Colombo for delivering the vote of thanks.

This talk was moderated by Dr. Neranjeka Jayaratne on behalf of the Speaker Series subcommittee of CUFSAA-NA.
---
CUFSAA Distinguished Speaker Series is organized by the Speaker Series subcommittee of CUFSAA-NA in association with the Faculty of Science, University of Colombo.  If you would like to contact the subcommittee please write to us at speaker-series@cufsaa.org. We are particularly interested in hearing from our members with topic and speaker suggestions. Thank you!
---