---
Oscilloscopes Donation Ceremony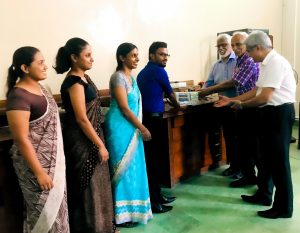 The two oscilloscopes donated to the Department of Nuclear Science (Total Cost $1011.44) were handed over to the department by the visiting CUFSAA founder president, Prof. LMV Tillekeratne and past president Dr. Chandana Goonetilleke at the Faculty of Science. Dean Science, Prof. Upul Sonnadara and Head of the Department of Nuclear Science,  Dr. Manuja Lamabadusuriya were also present at the occasion.
We once again, thank our CUFSAA members who generously contributed the total cost of this donation plus the shipping cost to send the equipment to Sri Lanka. Along with the new oscilloscope, we also sent a second unit, a used one (Agilent 54622A) donated by Mr. Ranjith Weerasiri to the Department of Nuclear Science  and a logic analyzer donated by Dr. Upali Jayamaha to the Physics Department. We also thank Dr. Chandana Sumithrarachchi of the National Superconducting Cyclotron Laboratory, Michigan State University for his support to select a suitable oscilloscope for the department.
---
Dr. Asoka Ramanayake's contributions were appreciated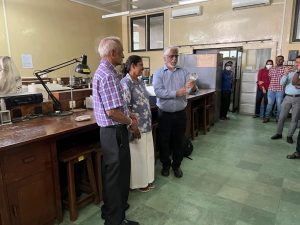 On behalf of the Colombo University Faculty of Science Alumni Association – North America, Prof. LMV Tillekeratne and Dr. Chandana Goonetilleke presented a plaque to Dr. Asoka Ramanakaye at the Faculty of Science University of Colombo for her dedicated work in coordination and support in Sri Lanka on behalf of CUFSAA towards the COVID Relief Project and Medical Supplies Project. Her leadership in Sri Lanka facilitated all aspects of these projects on behalf of CUFSAA.
---
Physics Equipment Donation Project
Requesting donations to purchase equipment for physics laboratories
As you all may be aware, Sri Lanka will experience further fiscal policy tightening for the next few years, and as a consequence, the capital expenditures of state institutions (such as universities) are heavily compromised. The Department of Physics at the University of Colombo (UoC) like many other departments, through its earned funds and competitive grants, has so far managed to maintain infrastructure and support recurring expenses. In the Department of Physics, over the years, classic experimental laboratory apparatus have provided essential learning experiences to undergraduates. However, some of the cherished experiments (e.g., Zeeman effect experiment, Determination of e/m ratio, Fabry-Perot interferometer, etc.) are no longer in usable/repairable condition. As the replacement cost of these equipment is very high, current economic conditions and fiscal policies do not allow opportunities for the department to purchase these equipment.
After receiving a request from the Head of the Department of Physics through the Dean, Science Faculty, CUFSAA decided to accept the request to donate physics equipment. The physics equipment donation subcommittee identified several equipment to be donated based on the UoC prioritizations, considering the usage and the current status of the specific items. Equipment list we would like to send to UoC can be found via this link.
We kindly ask our members and Science Faculty alumni and any other well-wishers for your generous support to purchase these much-needed physics equipment in order to provide a valuable experimental experience for the next generation of UoC graduates. You may also have heard the UoC became the number one University in SL for another year, and with these types of vital experiments would help maintain the recognition the UoC had developed. Your tax-deductible contributions to CUFSAA for this worthy cause can be made via the links given below.
Send your donations via paypal
Please visit http://www.cufsaa.com/physics-equipment for more information including the list of equipment requested and ways to donate to the Physics Equipment Project.
If you have any questions or would like additional information about the project, please get in touch with the subcommittee via email at physics-equipments@cufsaa.org.
---
Help Aisha Beat Brain Cancer
he daughter of Karl Uduman, a former executive member of CUFSAA, Aisha, was diagnosed with one of the most aggressive and debilitating forms of brain cancer: diffuse midline glioma (DMG).  The estimated minimum cost of drugs and therapies alone exceeds 1.1 million CAD and the Uduman family had started a Go Fund Me campaign to raise funds to treat Aisha.
If you can help them in some way during their hour of need, please visit the website https://gofund.me/16b222b1 to get more information about the fund raising and ways to support.
---
Chem@UoC – Issue 03 is out!
The Issue 03 – December 2022 of the official newsletter of the Department of Chemistry, University of Colombo Chem@UoC was recently released. The issue contains a wealth of information, recent news and updates at the department as well as information about faculty members and their research. The issue spans 13 pages and includes an article about the pioneering work of Prof. LMV Tillekeratne.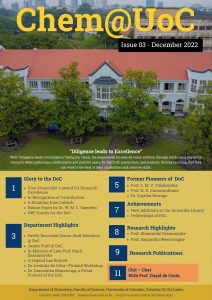 Please click on this link to read/download the issue from CUFSAA website.
---
Tamasha 2023 – Toronto, Canada
Event Date /Venue: September 2-3, 2023, Toronto, Canada
We are excited to announce the date for the long awaited CUFSAA Reunion (Tamasha 2023) which had been delayed due to the pandemic. The event will be held on September 02, 2023 over the labor-day weekend in Toronto, Canada.
The Tamasha 2023 Event location is:
Toronto Grand Banquet and Convention Centre, (https://www.torontogrand.ca/)
30 Baywood Road
Toronto ON M9V 3Y8 Canada
Phone: 416-740-4040
The Reunion Dinner Dance will be held on Saturday September 02, 2023 from 6:00pm – 1:00am. Guest Registration starts at 5:30pm.
SAVE THE DATE: Our 3rd TAMASHA get together is scheduled for Labor day Weekend (September 02-03) of 2023 and will be held in Toronto, Canada. Please save the date and be ready for Dinner/Dance and the CUFSAA Annual General Meeting.  The Annual General Meeting (for CUFSAA Members ONLY) will be held on September 02, 2023 from 5:00-6:00 pm at the same venue. We are planning to organize an informal brunch event for Sunday the September 03, 2023 for everyone, depending on the interest. These details will be announced later. Hope to see many of our UofC Science Faculty Alumni, friends, families, and well-wishers! Tamasha 2023 is going to be an inclusive gathering of all interested parties. All are welcome!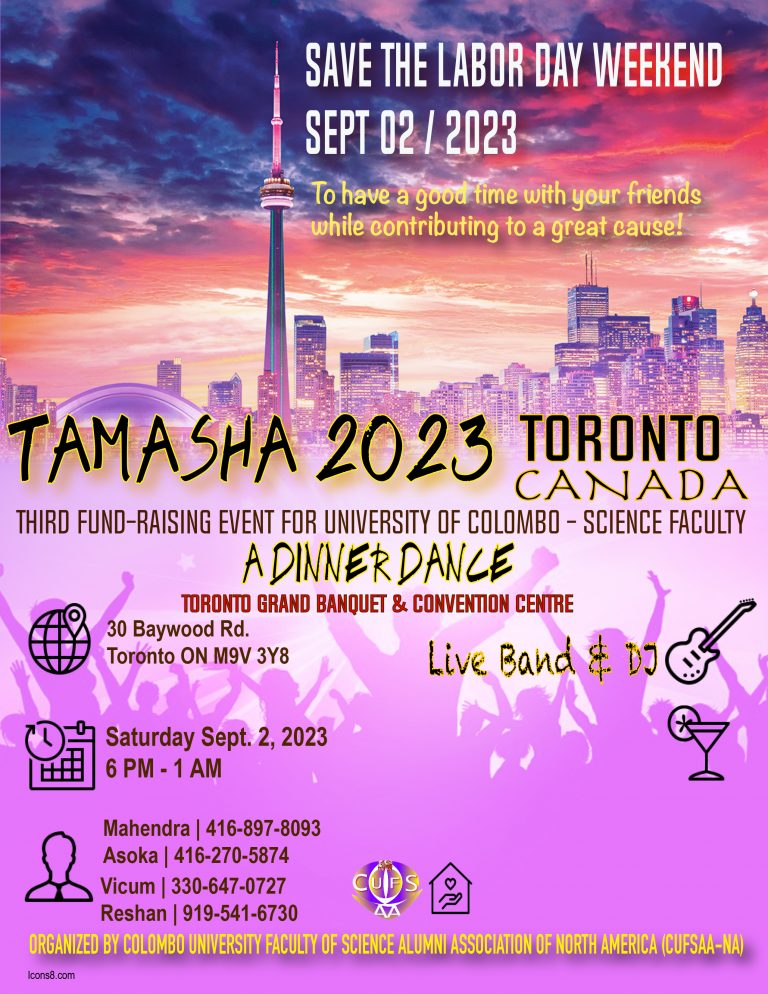 Where to Stay: Good hotel rates are going fast. Please use google maps with the location address, "Toronto Grand Banquet and Convention Centre, 30 Baywood Road, Toronto ON M9V 3Y8 Canada" to search nearby hotels that suit your travel plans and budget.
Please visit http://www.cufsaa.com/tamasha2023/ for additional and updated information about the program, ticket prices, and sponsorship availability. Reach out to the Tamasha Organizing Committee (Tamasha@cufsaa.org), if you have any questions, comments or concerns.
Thank you!
Tamasha Organizing Committee
---
How to Become a member of the Colombo University Science Faculty Alumni Association- North America
It is easy! There are no Annual Dues!! Please visit CUFSAA website (cufsaa.com) and fill out the online membership form. The link to the page is http://www.cufsaa.com/membership-form/
Alternatively, you can email info@cufsaa.org the following details about you.
1. Name
2. Postal Address
3. Telephone Numbers
4. Email Address
5. Nature of Association with the Faculty of Science of the University of Colombo, Sri Lanka. (Tell if you were a staff member, undergraduate student, graduate student, etc..)
6. Duration of your association. Please let us know the beginning and ending year of your association.
Thanks!
CUFSAA
---
Newsletter Editorial Policy: CUFSAA welcomes news articles about the University of Colombo Science Faculty alumni for potential inclusion in our newsletter, website or both. The news item must be about alumni and submitted by a member or members of CUFSAA. The editorial committee is especially interested in professional achievements, outstanding contributions, and notable recognition of alumni.The editorial committee reserves the rights to edit the submission as deemed necessary for publication and to make the final decision on the acceptance.  Please submit your articles via email to info@cufsaa.org. Please note that the editorial committee, if needed in consultation with the CUFSAA executive committee, makes the final decision on the acceptance of the article and where it would appear. Please visit, CUFSAA Newsletter Article Acceptance Policy page on our website for additional information. Thank you!
About Us: Colombo University Faculty of Science Alumni Association – North America (CUFSAA-NA), a 501(c)(3) non-profit organization incorporated in the state of New Jersey, is formed exclusively for social, charitable, and educational purposes to foster, maintain and support a mutually beneficial relationship between the alumni of the Colombo University, Faculty of Science living in North America, The University of Colombo, and the community at large. Your contributions to CUFSAA-NA may be tax deductible.  Join us and support these worthy causes. Send an email to info@cufsaa.org.
Copyright © 2023 Colombo University Science Faculty Alumni Association, All rights reserved.
CUFSAA Newsletter Committee
Colombo University Science Faculty Alumni Association
---