Calling All Science Faculty Alumni and Friends!
Help Sri Lanka in its Hour of Need
COVID Relief Fund Update (June 13, 2021):
CUFSAA, with the help of donations made by its passionate and empathetic members and well-wishers, in association with the Faculty of Science, University of Colombo, has already begun making life-saving aid donations of high-priced medical devises to Sri Lankan hospitals in this crucial hour. As you read this, dedicated Sri Lankan doctors are working tirelessly and using your contributions to save lives and safely bring back Sri Lankan mothers and fathers home to their families.
We donated a Philips Lumify Ultrasound handheld scanner to the Intensive Care Unit of the National Hospital of Sri Lanka at a cost of Rs. 2 million. This device can be taken to the bedside and scan COVID patients more efficiently and quickly without asking them to move around. We echo the following expression of  appreciation by the doctor in charge of the intensive care unit to give you a measure of the value of our donation:" I am sure this invaluable medical device may save many critically ill patients and their blessing will enable you to carry-on the good work in the future as well. I wish you good health and hope that everybody keeps safe during this challenging time."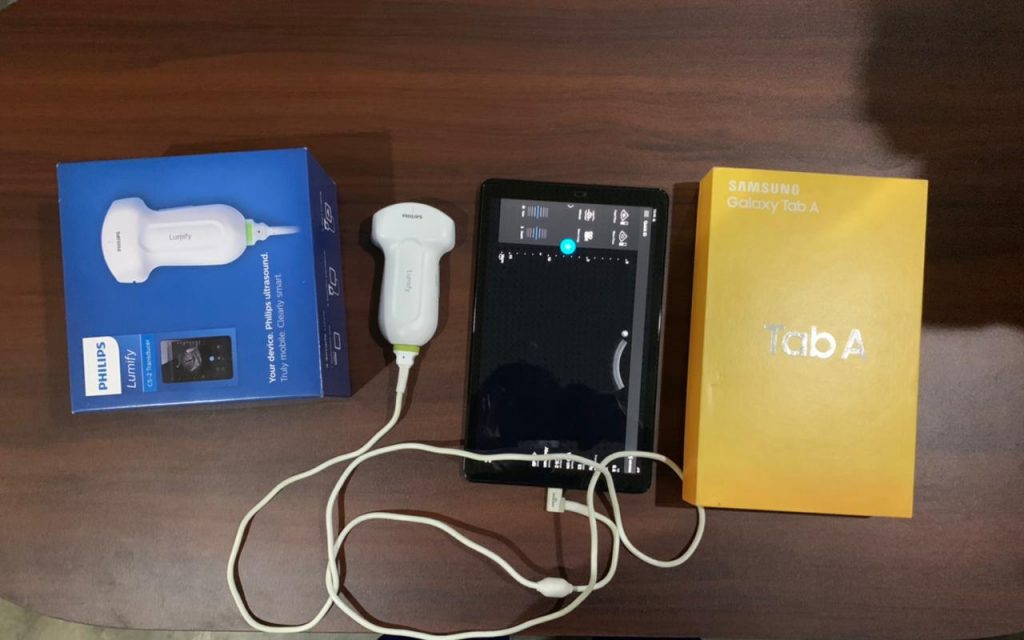 We have ordered an adult high flow O2 delivery (AIRVO2) machine, at a cost of Rs. 1.2 million, which will be used to treat COVID patients. We plan to distribute this machine to a rural hospital.
We donated a theatre lamp at a cost of Rs 560,000 to the Dambadeniya base hospital so they can continue surgeries without any interruptions.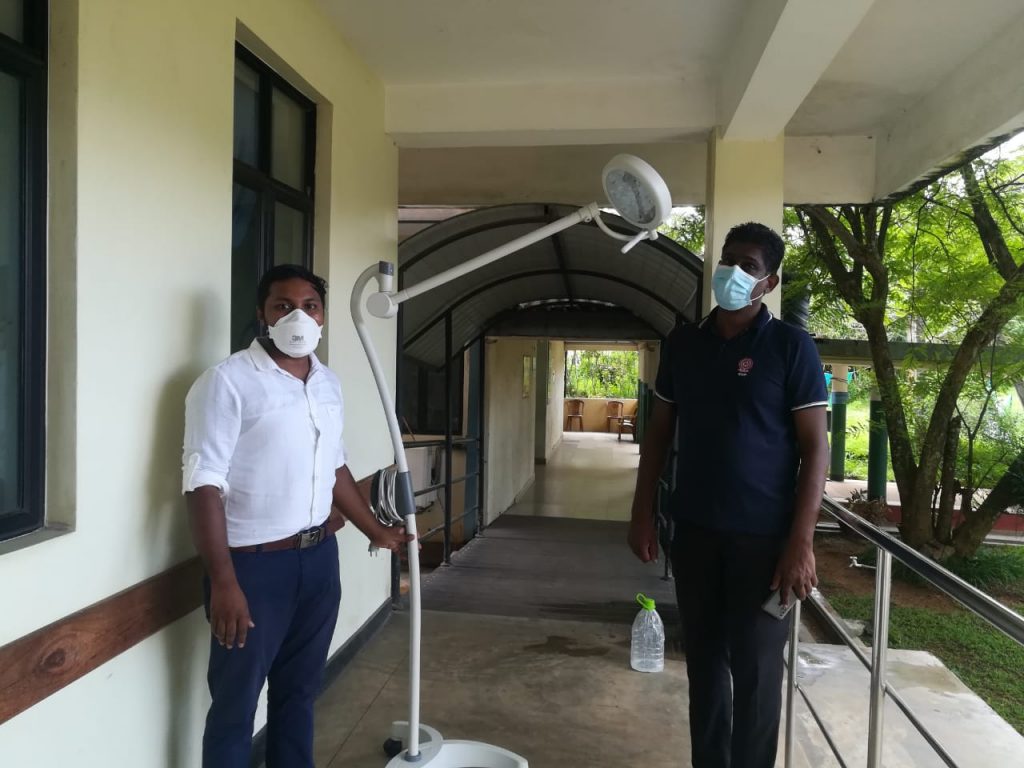 Three multiparameter monitors ordered at a cost of Rs. 220,000. These will be delivered to the Dambadeniya base hospital next Wednesday, June 16.
In addition, we have ordered a range of medical equipment to the Dambadeniya base hospital that are urgently needed to treat COVID patients. The total cost of equipment for the Dambadeniya base hospital is Rs. 1.4 million. Some of these equipment have been put into use already and  saving patient lives.
Responding to a request made by the Faculty of Medicine via the Faculty of Science, University of Colombo, we have ordered a neonatal high flow O2 delivery (AIRVO2) machine to the Lady Ridgeway hospital at a cost of Rs. 1.2 million. This machine will benefit infants born to mothers with COVID-19.
Currently, there is a severe shortage of high flow O2 delivery machines in Sri Lanka, and they are not available for immediate purchase from local suppliers. Whilst working with an international group to procure two of these life-saving machines immediately, now there is an opportunity to purchase seven more machines if we could raise an additional $8,000 immediately. Our plan is to purchase and ship these machines to rural hospitals as soon as possible.
We were able to make these crucial donations thanks to the generous contributions made by our alumni and well-wishers who have compassionately come to the forefront in this battle to save Sri Lankan lives. These donations total US$ 46,402 (as of June 11, 2021). So far, more than 140 donors have rallied to support the cause.
Please continue your generous donations so that we can reach out to more patients in their darkest hours. Every dollar you contribute will go directly to Sri Lanka and help save a Sri Lankan life.
You may contribute via the PayPal button from the link below:
or by check made payable to "CUFSAA-NA" and sent to the CUFSAA Treasurer:
Dr. Saliya de Silva
393 Valley Road
River Edge, NJ 07661

Thank you!
CUFSAA – Executive Committee
---
COVID Relief Fund Update (June 04, 2021):
We at CUFSAA-NA, in consultation with several Faculty members of the Faculty of Science at the University of Colombo, have identified three main paths of urgent COVID support. We are working diligently to support the people of our motherland in one of its darkest hours.
Support path 1:  To purchase and donate urgently needed big-ticket medical equipment to rural hospitals struggling to keep up with the ever-increasing number of COVID patients. We are working with an alumna (a former Science Faculty Lecturer) who provides yeoman service at ground level to identify urgent needs. (Funding as needed. We have committed US$ 14,000 so far.)
Support path 2: To donate a Fisher & Paykel Optiflow Nasal Oxygen delivering system to the NICU at the Lady Ridgeway Hospital. Physicians use this equipment to treat newborns of COVID-infected mothers. (Approximate cost US$ 6,000. We have committed funds for this project.)
Support path 3:  To donate a Philips Lumify Ultrasound handheld scanner to the National Hospital of Sri Lanka. This device can be taken to the bedside and scan COVID patients without asking patients to move around.  (Approximate cost US$ 10,000)
We note with appreciation the ideas and initiatives of our alumni, which helped us decide on some of these paths. Feel free to contact us at info@cufsaa.org  with any suggestions or endeavors you may have to help Sri Lankans pull through this devastating period.
Responding to these critical needs, we have revised our target to US$ 30,000.00 to fulfill our commitment. Thanks to the generosity and empathy of our grateful alumni, we have so far raised US$ 16,742.15 plus expected matching funds of US$ 7,000. We require just US$ 6,300 more to reach our target.
---
COVID Relief Fund Update (May 27, 2021):
It took CUFSAA-NA only four days to raise US$ 20,000 (including matching funds) for the COVID-relief effort in Sri Lanka. All thanks to our compassionate and grateful members and friends, who rose quickly to the occasion, not simply to meet but to exceed our initial expectations. We decided to raise the bar to reach a US$ 25,000 goal to extend our relief efforts to more hospitals that are in dire need of medical supplies. Thank you for rallying as one in these darkest hours of our motherland. We express our sincere appreciation and gratitude to all donors. We feel honored and privileged to be part of you, the alumni of the Faculty of Science and friends, an extraordinary group that showcases the highest echelons of humanity.
On May 25th, we virtually met Professor Sonnadara  (Dean, Faculty of Science) and Professor Mahanama (Former Dean, Faculty of Science). The Faculty of Science academics are now collaborating with the dedicated professionals of the Faculty of Medicine and other alumni spearheading the COVID-relief efforts in Sri Lanka to find optimal solutions for the COVID patients in Sri Lanka.
If you have not contributed so far, please do so now. Every day and every dollar will count and help a Sri Lankan mother or father return safely to their children.
---
COVID Relief Fund Initial Request (May 19, 2021):

As every Sri Lankan knows, our country of birth is in the middle of a major humanitarian crisis. An invisible enemy is causing Sri Lankan children to lose their parents and loved ones, destroying their lives forever. Pictures of stunned and bewildered children and spouses saying goodbye to the remains of their beloved, surrounded by workers in full protective gear, have become excruciatingly difficult to watch.
It is time for us, the worldwide alumni of the Faculty of Science, University of Colombo, and friends, to rally and make an impact. The Colombo University Faculty of Science Alumni Association-NA (CUFSAA-NA) has joined hands with our teachers and colleagues of the Faculty of Science to directly donate urgently required medical equipment to a hospital in need.
We understand the strength of our worldwide alumni and friends, and we plan to use that to fund equipment that is expensive but will have the ability to make a significant impact saving life (such as ventilators). This way, your donations will make a crucial contribution towards making a difference. Our ground team will be the faculty members led by the Dean (with the patronage of the Vice-Chancellor, herself a highly regarded professor of medicine). Our job is to unify our brothers and sisters worldwide and help the first responders in our motherland perform their honorable and tireless endeavors to save Sri Lankan Lives.
We expect to receive exact requirements such as a list of most needed equipment, their prices, and availability through the Dean/Science. When such information is received it will be shared with you through this webpage.
Our immediate target is to
raise over
US$ 15,000.
We need to raise this money within a week to provide the immediate relief need. So please step in and contribute generously. Thank you!
---
CUFSAA-NA is a 501-C3 approved charity in the United States. Your donations may be tax deductible to the extent allowed by the US law.