Life After Graduate School – Preparing for Your Job Search
3 – 5 PM US EST, Saturday April 9
Information Session
Determining your career path is a critical process that all graduate students face. For those who have not yet begun thinking about your career path, it is certainly time to begin! This Information Session is designed to help you plan and prepare for your job search after graduate school.
In this Information Session we will cover:
Skills and attributes that employers look for in candidates
Tips for writing a winning resume and an impactful research summary
Advice on how to successfully navigate through the interview process
Follow up Mentorship Program
This Information Session will be conducted by Dr. Ravi Ranatunga, Director, Corporate Analytical at The Procter & Gamble Company.
Panel Discussion
Following the information session, we will have a panel discussion where panelists representing industry, academia and government labs will share their experience and insights on the job search process and answer any questions. Discussion topics include:
Creating a professional network
Tips on finding job opportunities
Planning career progression
Visa related issues (CPT/OPT/H1B) and Green Card application process
The panel members are:
Representing Academia –

Professor Rasika Dias

, Distinguished University Professor of Chemistry and Biochemistry, University of Texas at Arlington, Arlington TX
Representing Government Labs –

Dr. Geethani Bandara

, Senior Biologist, Laboratory of Allergic Diseases, National Institute of Allergy and Infectious Diseases, National Institutes of Health (NIH), Bethesda MD
Representing Industry –

Dr. Ravi Ranatunga

, Director, Corporate Analytical, The Procter & Gamble Company, Mason OH
Visa/Immigration Matters – Ms. Disna Weerasinghe, Attorney-at-Law (Admitted in New York) and Member of the American Immigration Lawyers Association, Scarborough Law LLC, Jacksonville FL (practice exclusively limited to immigration)
Mentorship Program  
Participants in this workshop have the option of enrolling in the career guidance mentorship program organized by the UPAA-USA. We will match professionals working in the US with each participant based on their career aspirations. In this program, participants will receive 1:1 feedback on their resumes and research summary.
This event is open to any Sri Lankan graduate student in the US, postdocs, as well as those who are early in their careers.
---
A workshop of interest to CUFSAA Members and UofC Graduates
UPAA-USA will be hosting a virtual Career Guidance Workshop for STEM graduate students & postdocs (exclusively open for all Sri Lankans) on April 9th at 3 pm EST to discuss the skills and attributes that employers look for in candidates, provide tips and examples for writing a winning resume and an impactful research summary, and offer advice on how to successfully navigate through the interview process. This will be followed by a question & answer session with a panel of experts representing industry, academia, and national labs, plus an expert on visa/immigration matters.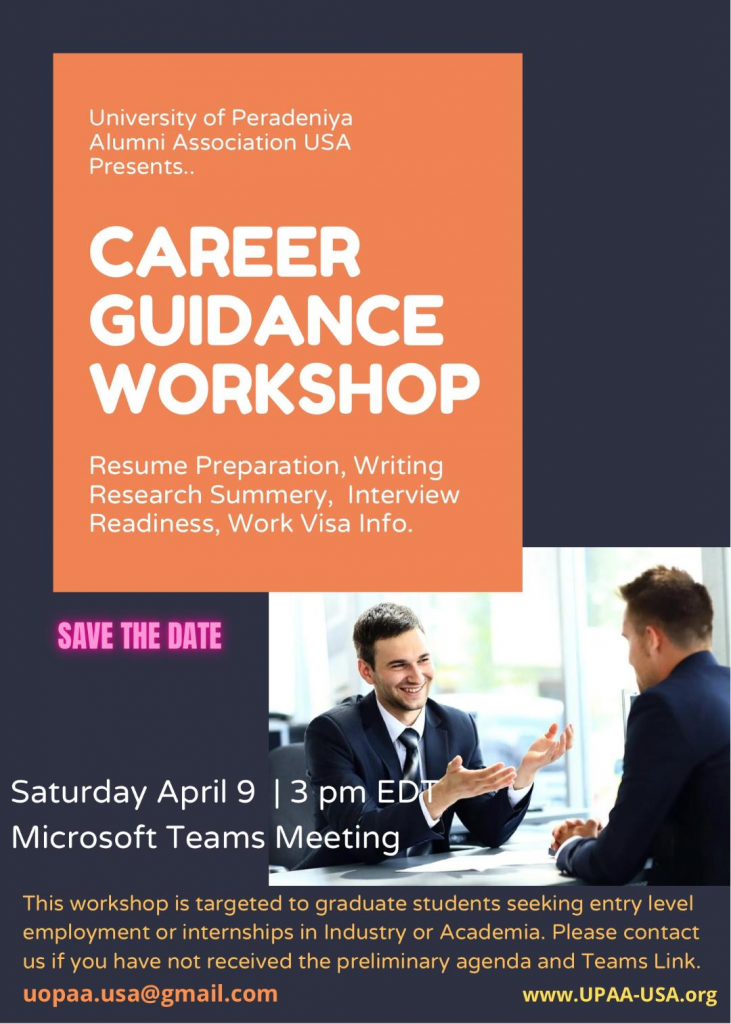 Please save the date on your calendar. Visit https://www.upaa-usa.org/events/ for more information.

Since this is open to all Sri Lankan graduate students, please feel free to share this information with others who could be benefited.
---
Disclaimer: All of the above information and links are provided as a courtesy to interested UofC students, graduates or any other interested parties due to the perceived value of the said information ONLY. Hence, this post should not be interpreted or viewed as an endorsement of the information provided therein by the CUFSAA executive committee or the CUFSAA association. Thank you!