Special Announcement (Professor Valentine Joseph)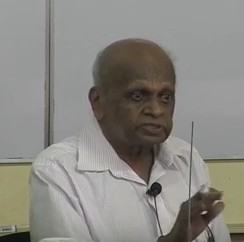 It is with a heavy heart that CUFSAA is announcing the passing away of the former Professor of Mathematics, University of Colombo, Professor Valentine Joseph, in Sri Lanka, on March 15, 2017!
Students who had the privilege of learning from him will surely remember him as an exceptional human being, a top scholar (especially in the area of Relativity), and an inspiring teacher who opened the minds of hundreds of students to see the universe in a novel and beautiful way. His vast student body scattered in North America will no doubt remember the legacy of this wonderful human being.
May his soul Rest In Peace!
We intend to prepare a special CUFSAA tribute edition of CUFSAA Newsletter for Professor Joseph soon. Please send your stories and fond memories to info@cufsaa.org about Prof. Joseph for inclusion to share with fellow CUFSAA membership.
 CUFSAA Executive Committee